Vancouver Interior Design / Whistler Interior Design / West Vancouver Interior Design
My designs are created to compliment the architecture that inspires us. Portfolio of work and current jobs. Please feel free to comment or send any questions you have. Enjoy!! www.whistlerdesign.com
Friday, May 17, 2013
Posted by

Debbie Evans
   at 4:30 PM

Thursday, May 16, 2013
Posted by

Debbie Evans
   at 11:37 PM

Once upon a time, the kitchen was the most utilitarian room in the house. Function, of course, is still important. But these days, designer touches don't stop at the kitchen door, and chandeliers aren't just for dining rooms.
Create a center of attention.
"This kitchen was designed to bring a symmetrical balance to the back, windowed wall," says
Marlene Wangenheim
of Interiors By Design. "All the materials, though rich, were very played down— for example, the white quartz stone countertops and the Calacatta marble brick tile with mother-of-pearl in the backsplash."
"The chandelier brings your eye immediately to the center of the room, and then the tour begins," she adds. "The glitz of the chandelier also balances the serene color palette by contrasting it and giving it a wow effect."
Mix soft and hard
. "My inspiration for hanging this black antique chandelier was to add a sense of sophistication and elegance to the kitchen space," says New Zealand designer
Natalie Du Bois
of Du Bois Design. "It also softens and offsets the hard, solid masculine materials used in the kitchen."
More…
Posted by

Debbie Evans
   at 11:23 PM

As we age, the lens of the eye becomes less flexible, and our lighting requirements change. The ability to focus on near objects decreases, which explains why many people need reading glasses as they get older. The lens of the eye also becomes denser and yellower, decreasing the transmission of light, so that more light is often needed to see. This changes how we perceive colors; they become more muted and muddy. Just try looking through a yellow filter to see what I mean — you'll benefit from lighter colors surrounding you. The eyes become more susceptible to glare as well, making the need for contrast greater.
There are many other issues that affect aging eye lenses too, so older eyes require different lighting solutions. These solutions won't benefit just them; they will also help create more beautiful household surroundings. Considering the right amount of light, location of the light source and color temperature will improve your and your family's sense of well-being.
Let's look at a few lighting solutions, starting with the kitchen.
"Up, down and all around." I use this little saying to make sure I have addressed all the required elements when I'm planning a lighting design. Sounds simple, but it really does work.
Up Lighting
The most common use of up lighting is in a recessed cove around the top perimeter of a room. To maximize light output, use a T5 fluorescent or LED light source that will wash the ceiling with light.This helps to create a brighter ceiling that bounces and reflects light throughout the space without glare. Combine this with lots of natural daylight to increase the overall light levels in a room.
If your cabinets don't go to the ceiling, consider adding lights above the cabinets. Using a more powerful light source, such as a T5 fluorescent, increases the reflectivity of the ceiling, thereby increasing the light in the room.
How to Light a Kitchen for Older Eyes and Better Beauty
Posted by

Debbie Evans
   at 11:03 PM

Water in the garden is magical; even more so when it's adjacent to the house, requiring us to cross it to reach the front door. Maybe the magic comes from childhood stories of castles and moats, but moats certainly don't exist only in castles.
Traditionally moats were crossed with a simple raised drawbridge, while modern moats are generally spanned by decked walkways or even concrete stepping stones. Using water close to our houses can give us some of the historical benefits of medieval moats — a sense of security, controlled access to the house and the aesthetic pleasure of being close to water.
You might think that many of these examples aren't moats in the literal sense, but without doubt these water features have their roots in our medieval past.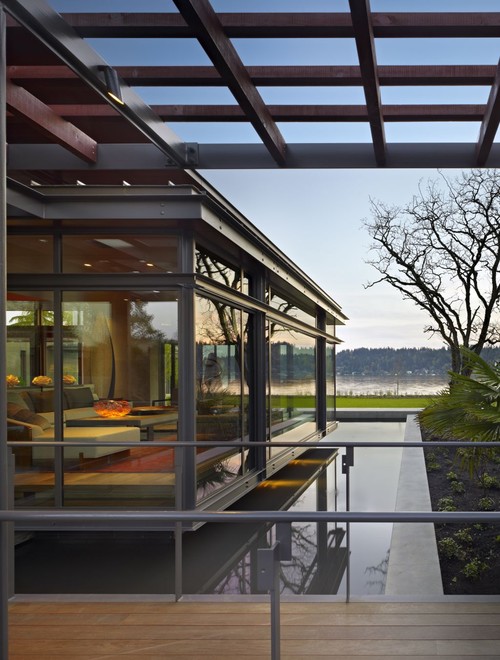 If your home security doesn't involve gates and fencing, there must be something reassuring about having any visitors cross a drawbridge to your front door. Perhaps this reassurance is built into our genes following our ancestors, who gained a sense of security from being surrounded by water that kept both wild animals and enemies at bay.
This wide decked walkway, I suppose, is the closest a home can get to the traditional ideal of a drawbridge in a contemporary setting — though without the ability to raise it at the signs of trouble approaching.
Controlling the access to your house can be an important security benefit that the modern moat can provide, even when the moat is within the house's perimeter, as shown here.
These randomly shaped stepping stones lead over the moat, fulfilling its traditional purpose of blocking the entrance but with more of a visual sense of a barrier than a practical one.
Read
more…
Posted by

Debbie Evans
   at 10:23 PM

With their gracious porches, well-proportioned rooms and rambling grounds, Southern plantation-style homes in the U.S. have a lot to offer. Whether you are renovating a historic
Lowcountry home
or simply feel inspired by classic Southern style, this guide is here to help. Curated picks including paint colors, lighting, cabinetry and more make decision making a breeze — so you can spend more time relaxing with that tall glass of sweet tea on your front porch.
A unique blend of elegance and down-home practicality, Southern plantation-style homes exude charm and grace. Key features might include columns, wide porches (single or double), shutters and — if you are lucky — mature trees dotting a vast lawn.
Nothing conjures up relaxation quite as well as the Southern porch. Make the most of yours with classic shutters in a dark hue, lantern-style fixtures and easygoing porch furniture.
More…
Posted by

Debbie Evans
   at 10:16 PM

Posted by

Debbie Evans
   at 10:13 PM

Bathroom remodels have been taking off in the past few years — today the bathroom's design is just as important as the kitchen's, making bathrooms with a universal appeal in design and aesthetics more in demand than ever. And that includes lighting. Younger homeowners might like the vibe and ambience of colored LEDs in the shower and tub, while aging homeowners might need more light to make their space work.
While so many of us love the crisp bathrooms with endless slabs of white or cream stone, the lack of material contrast makes visual cueing and distance perception difficult — no matter what your age. Even the average person can get lost in a sea of white.
Creating a universal lighting scheme for your bathroom doesn't mean it has to be dull. Here are some examples of lighting techniques and material selections that can make your bathroom sparkle, without the glare.
Designing your bathroom to increase light levels and avoid shadows and glare is always tricky. The first line of defense is usually at the vanity. Always consider wall sconces at the appropriate height as a first option. Place these lights on either side of the mirror so as to evenly reflect light toward you. This eliminates any shadows that will occur with only pot lights or downlighting. Ideally, opt for LED lightingfor maximum light output.
Side lighting doesn't have to be traditional wall sconces to work successfully. Consider decorative pendants like these.
Handicapped-Accessible and Universal Design Showers »
Lighting in the shower shouldn't be just an afterthought when you're considering new construction or a remodel. Shower lighting is imperative, especially if you don't have any natural light coming into the room.
Lighting your shower elevates your showering experience to more than just the basic scrub and ensures safety in a wet environment. You should include at least one light (or more depending on the size of your shower) and include a fixture that is appropriate for wet locations, for obvious safety reasons.
Read full post.
Universal Bath Design: Light Your Bathroom for All Ages and Abilities
Houzz Posts
Browse Lighting on Houzz- For Example: